Key Specifications
| | | | | | | | | | | | | | | | | |
| --- | --- | --- | --- | --- | --- | --- | --- | --- | --- | --- | --- | --- | --- | --- | --- | --- |
| Part Number | Description | Status | Input Voltage(Type) | Vin(Min)(V) | Vin(Max)(V) | Iout(Max)(A) | Vout(Min)(V) | Vout(Max)(V) | Regulated Outputs(.) | Topology | Dimming Method | Power Factor Correction(Min) | Special Features | Operating Temperature Range(℃) | Pin/Package | EV Kit Available? |
| UM1360Y | 40V 1A LED Driver with Internal Switch | ACTIVE | DC/DC | 6 | 40 | 1 | - | 40 | 1 | Buck | Analog, PWM | N/A | Enable/Shutdown, Soft-start, Thermal Shutdown, Integrated Switch | -40 to 85 | 5/SOT89 | Y |
View All>>
Product Description
The UM1360 is a PWM step-down converter with internal power switch, designed for driving single or multiple series connected LEDs efficiently from a voltage source higher than the LED voltage. The UM1360 can drive up to 10 series connected LEDs. The device operates from an input supply between 6V and 40V and employs hysteretic control with a high side current sense resistor to set the constant output current up to 1A. The device is well suited for applications requiring a wide input range. The high side current sensing and an integrated current sensing circuitry minimize the number of external components while delivering an accurate average output current. Depending upon supply voltage and external components, this device can provide up to 30 watts of output power.
Output current can be adjusted below the set value, by applying an external control signal to the VSET pin. The VSET pin will accept either a DC voltage or a PWM waveform. Dedicated pulse width modulation (PWM) input enables pulsed LED dimming over a wide range of brightness levels. A hysteretic control method ensures excellent input supply rejection and fast response during load transients and PWM dimming.
Applying a voltage of 0.2V or lower to the VSET pin turns the output off and switches the device into a low current standby state. The UM1360 employs spread spectrum technique to greatly reduce its interference to other part of the system.
The UM1360 comes in small SOT89-5 package. It is ideal for industrial and general lighting applications.
- Hysteretic Control with High Side Current Sensing
- Integrated 40V 0.5Ω NDMOS
- Wide Input Voltage Range: 6V to 40V
- 50V Transient Capability
- ±5% LED Current Accuracy
- Adjustable Constant LED Current
- Single Pin On/Off and Brightness Control Using DC Voltage or PWM
- Over Temperature, Open Circuit LED Protection
- Up to 1MHz Switching Frequency
- Pb-Free SOT89-5 Package
Typical Application Circuit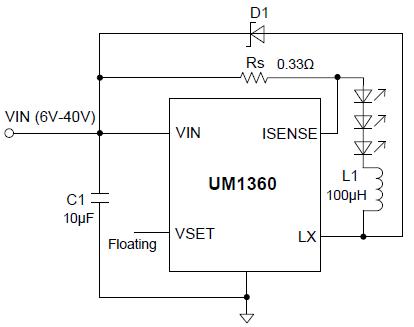 - Low Voltage Halogen Replacement LEDs
- Low Voltage Industrial Lighting
- DC/DC or AC/DC LED Driver Application
- General Purpose,
C
onstant Current Source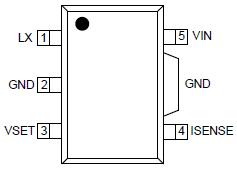 Application Notes
Product Selection Guide
Product Search
Product You Recently Viewed