Key Specifications
| | | | | | | | | | | | | | | |
| --- | --- | --- | --- | --- | --- | --- | --- | --- | --- | --- | --- | --- | --- | --- |
| Part Number | Description | Status | Reset Out | treset (min) | Watchdog Feature | Watchdog Timeout | Manual Reset | Power Fail Comparator | Reset Thresh. Accur. (@ +25°C) (%) | Icc (max) (µA) | RoHS Available | Oper. Temp. (°C) | Pin/Package | EV Kit Available? |
| UM706xS | 具有看门狗输入,手动复位功能,推挽式/RESET输出的微处理器复位电路 | ACTIVE | Push-pull, active LOW | 140ms | Input/Output (WDI/WDO) | | Yes | Yes | 2.5 | 150 | Yes | -40 to 85 | 8/SOP8 | Y |
View All>>
Product Description
The UM706xS/UM708xS/UM813xS series are cost effective system power supply supervisory circuits designed to monitor the power supplies in digital systems.
The UM706xS provides power-supply monitoring circuitry that generates a reset output during power-up, power-down, and brownout conditions. The reset output remains operational with VCC as low as 1V. Independent watchdog monitoring circuitry is also provided. This is activated if the watchdog input has not been toggled within 1.6 seconds. In addition, there is a 1.25V threshold detector for power-fail warning, low battery detection, or to monitor an additional power supply. An active low debounced manual reset input is also included.
The UM708xS is the same as the UM706xS, except an active-high reset is substituted for the watchdog timer. The UM813xS is the same as the UM706xS, except RESET is provided instead of RESET
. All parts are available in a small outline SOP8 package.
Features
- Wide Operation Voltage Rang
e of 1V to 5.5V
- Correct Logic Output Guaranteed to VCC=1.0V
- Precision Supply-Voltage Monitor: 2.63V, 2.93V, 3.08V, 4.38V, 4.63V
- 200ms Reset Pulse Width
- Independent Watchdog Timer-1.6s Timeout (UM706xS, UM813xS)
- Active-High Reset Output (UM708xS, UM813xS)
- Voltage Monitor for Power-Fail or Low-Battery Warning
- Temperature Range: -40°C to +85°C
- Supply Current of 80μA (Typ.)
Typical Application Circuit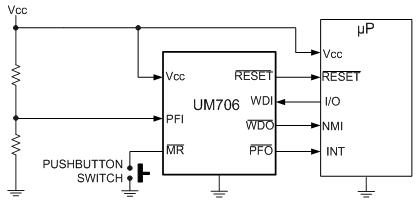 Applications
- Applications Using DSPs, Microcontrollers or Microprocessors
- Programmable Controls
- Computers
- Embedded Systems
- Industrial Equipments
- Intelligent Instruments
- Wireless Communications Systems
Pin Configurations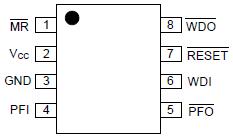 UM706xS
Ordering Information
Part Number

Top Marking

RESET Threshold (V)

Timeout Period (ms)

Package Type

Shipping Qty

UM706LS

UM706LS

4.63

240

SOP8

3000pcs/13 Inch

Tape and Reel

UM706MS

UM706MS

4.38

240

UM706TS

UM706TS

3.08

240

UM706SS

UM706SS

2.93

240

UM706RS

UM706RS

2.63

240