Key Specifications
| | | | | | | | | | | | | | | | |
| --- | --- | --- | --- | --- | --- | --- | --- | --- | --- | --- | --- | --- | --- | --- | --- |
| Part Number | Description | Status | SubFamily | Regulated Outputs(.) | Output Options | Iout (Max)(mA) | Vin (Min)(V) | Vin (Max)(V) | Fixed Output Options(V) | Vout (Min)(V) | Vout (Max)(V) | Enable | Under Voltage Lockout | Pin/Package | EV Kit Available? |
| UM1550DB | 超低静态电流线性稳压器 | ACTIVE | Ultra Low Quiescent Current LDO | 1 | Fixed Output | 250 | 1.8 | 8 | | 1.2 | 5 | No | No | 4/DFN 1.0×1.0 | Y |
View All>>
The UM1550/1560 series is a set of high input voltage low quiescent current regulator implemented in CMOS technology. They can deliver 300mA output current and allow an input voltage as high as 8V. They are available with several fixed output voltages ranging from 1.2V to 5.0V. CMOS technology ensures low voltage drop and low quiescent current.
The UM1550 is available in SOT23-3, SOT89-3, DFN6 2.0×2.0 and DFN4 1.0

×1.0 packages. The UM1560 is available in SOT23-5, SOT343, DFN6 2.0×2.0 and DFN4 1.0×1.0 packages.
- Input Voltage Range: 1.8V to 8V
- 300mA Guaranteed Output Current
2.5µA@VIN=8V (Typical)
- Low Noise: 115µVRMS (10Hz to 100kHz)
- Available Fixed Output Voltage from 1.2V to 5.0V with 0.1V Step
- With Shutdown Control (UM1560)
- Low Profile SOT23-3, SOT23-5, SOT89-3, SOT343, DFN6 2.0×2.0 and DFN4 1.0×1.0 Packages
Typical Application Circuit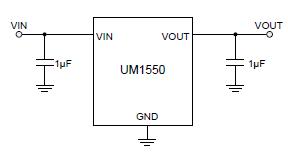 - Communication Equipments
- Battery-Powered Equipments

(Top View)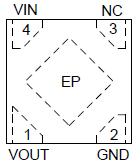 UM1550DB
Naming Information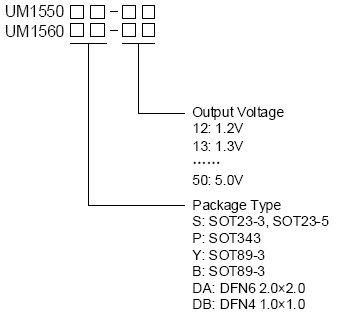 Ordering Information
Part Number

Output Voltage

Packaging Type

Marking Code

Shipping Qty

UM1550DB-12

1.2V

DFN4 1.0×1.0

JD

10000pcs/7Inch

Tape & Reel

UM1550DB-13

1.3V

JE

UM1550DB-14

1.4V

JF

UM1550DB-15

1.5V

JG

UM1550DB-16

1.6V

JH

UM1550DB-17

1.7V

JJ

UM1550DB-18

1.8V

JK

UM1550DB-19

1.9V

JL

UM1550DB-20

2.0V

JN

UM1550DB-21

2.1V

JP

UM1550DB-22

2.2V

JQ

UM1550DB-23

2.3V

JR

UM1550DB-24

2.4V

JS

UM1550DB-25

2.5V

JT

UM1550DB-26

2.6V

JU

UM1550DB-27

2.7V

JV

UM1550DB-28

2.8V

JZ

UM1550DB-29

2.9V

KD

UM1550DB-30

3.0V

KE

UM1550DB-31

3.1V

KF

UM1550DB-32

3.2V

KG

UM1550DB-33

3.3V

KH

UM1550DB-34

3.4V

KJ

UM1550DB-35

3.5V

KK

UM1550DB-36

3.6V

KL

UM1550DB-37

3.7V

KN

UM1550DB-38

3.8V

KP

UM1550DB-39

3.9V

KQ

UM1550DB-40

4.0V

KR

UM1550DB-41

4.1V

KS

UM1550DB-42

4.2V

KT

UM1550DB-43

4.3V

KU

UM1550DB-44

4.4V

KV

UM1550DB-45

4.5V

KZ

UM1550DB-46

4.6V

ND

UM1550DB-47

4.7V

NE

UM1550DB-48

4.8V

NF

UM1550DB-49

4.9V

NG

UM1550DB-50

5.0V

NH