Key Specifications
| | | | | | | | | | | | | | | | | |
| --- | --- | --- | --- | --- | --- | --- | --- | --- | --- | --- | --- | --- | --- | --- | --- | --- |
| Part Number | Description | Status | Supply Voltage(Nom)(V) | No. of TX | No. of RX | Duplex | Signaling Rate(Max)(Mbps) | ESD Contact (kV) | ESD Air (kV) | Number of Nodes | Common Mode Range(V) | Fail Safe | ICC(Max) (mA) | Operating Temperature Range(℃) | Pin/Package | EV Kit Available? |
| UM3090EESA | 内置LDO 5.5V~30V电源电压20mA输出、500kbps ESD增强型RS485收发器 | Active | 28 | 1 | 1 | Half | 0.5 | ±8 | ±15 | 256 | -7 to 12 | Idle, Open, Short | 1 | -40 to 85 | 8/SOP-EP | |
View All>>
Product Description
The UM3090EESA is ±15kV ESD-protected, high-speed transceiver for RS-485 communication that contains one internal low-dropout regulator, one driver and one receiver. The internal LDO allows the device to operate from an unregulated power supply of up to 30V.
The internal LDO generates a 5V±5% power supply that is used to power its internal circuitry. The UM3090EESA brings the 5V to an output VREG that allows the user to power additional external circuitry with up to 20mA to further reduce external components. The device features fail-safe circuitry, which guarantees a logic-high receiver output when the receiver inputs are open, shorted or idle. This means that the receiver output will be logic high if all transmitters on a terminated bus are disabled (high impedance). The UM3090EESA features reduced slew-rate driver that minimizes EMI and reduces reflections caused by improperly terminated cables, allowing error-free data transmission up to 500kbps. The device also features enhanced ESD protection. All transmitter outputs and receiver inputs are protected to ±15kV for JESD22 the Human Body Model and IEC61000-4-2 Air-Gap Discharge Model, ±8kV for IEC61000-4-2 Contact Discharge Model.
The device has a 1/8-unit-load receiver input impedance that allows up to 256 transceivers on the bus and is intended for half-duplex communications. The UM3090EESA is available in an 8-pin SOP8-EP package with an exposed paddle to improve power dissipation, and operates over the extended -40°C to +85°C temperature range.
Features
- +5.5V to +30V Wide Input Supply Range
- +5V Output Supplies Up to 20mA to External Circuitry
- Extended ESD Protection
±15kV—Human Body Model
±15kV—IEC61000-4-2, Air-Gap Discharge
±8kV—IEC61000-4-2, Contact Discharge
- Enhanced Slew-Rate Limiting Facilitates Error-Free Data Transmission
- -7V to +12V Common-Mode Input Voltage Range
- Allows up to 256 Transceivers on the Bus
- Thermal Shutdown
- Current-Limiting for Driver Overload Protection
Typical Application Circuits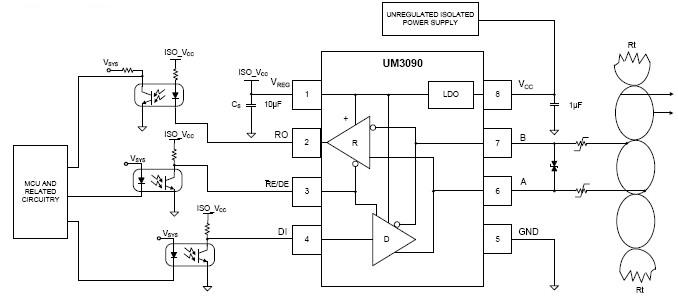 Applications
- Isolated RS-485 Interfaces
- Utility Meters
- Security and Protection
- Intelligent Sensors
- Industrial-Control Local Area Networks
- Transceivers for EMI-Sensitive Applications
Pin Configurations
Top View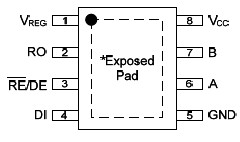 RS-485 Communication Function Table
Table 1. Transmitting
INPUTS

OUTPUTS

DI

B

A

0

X

High-Z

High-Z

1

1

0

1

1

0

1

0
X=Don't care; High-Z=High Impedance

Table 2. Receiving
INPUTS

OUTPUTS

A-B

RO

0

≥-50mV

1

0

≤-200mV

0

0

Open/Short

1

1

X

High-Z
X=Don't care; High-Z=High Impedance
Ordering Information
Part Number

Operating Temperature

Marking Code

Packaging Type

Shipping Qty

UM3090EESA

-40°C to +85°C

UM3090EESA

SOP8-EP

3000pcs/13 Inch

Tape and Reel