Key Specifications
| | | | | | | | | | | | | | | | | |
| --- | --- | --- | --- | --- | --- | --- | --- | --- | --- | --- | --- | --- | --- | --- | --- | --- |
| Part Number | Description | Status | Supply Voltage(Nom)(V) | No. of TX | No. of RX | Duplex | Signaling Rate(Max)(Mbps) | ESD Contact (kV) | ESD Air (kV) | Number of Nodes | Common Mode Range(V) | Fail Safe | ICC(Max) (mA) | Operating Temperature Range(℃) | Pin/Package | EV Kit Available? |
| UM3491EEPE | 具有IEC ESD保护的3.3V供电,10Mbps,全双工RS422收发器 | Active | 3.3 | 1 | 1 | Full | 10 | ±8 | ±15 | 256 | -7 to 12 | Idle, Open, Short | 0.9 | -40 to 85 | 14/DIP | |
View All>>
Product Description
The UM3491EEPE is a ±15kV electrostatic discharge (ESD)-protected, high-speed transceiver for RS-422 communication that contains one driver and one receiver. The device features fail-safe circuitry, which guarantees a logic-high receiver output when the receiver inputs are open or shorted. This means that the receiver output will be a logic high if all transmitters on a terminated bus are disabled (high impedance). The UM3491EEPE allows transmit speeds up to 10Mbps. The device features enhanced ESD protection. All transmitter outputs and receiver inputs are protected to ±15kV using the Human Body Model.
These transceivers typically draw 180µA of supply current when unloaded, or when fully loaded with the drivers disabled.
The device has a 1/8-unit-load receiver input impedance that allows up to 256 transceivers on the bus. The UM3491EEPE is intended for full-duplex communications.
Features
- ESD Protection for RS-422 I/O Pins
±15kV, Human Body Model
- True Fail-Safe Receiver while Maintaining EIA/TIA-422 Compatibility
- Maximum Data Rate up to 10Mbps
- Error-Free Data Transmission
- 1nA Low-Current Shutdown Mode
- Allow Up to 256 Transceivers on the Bus

Typical Application Circuit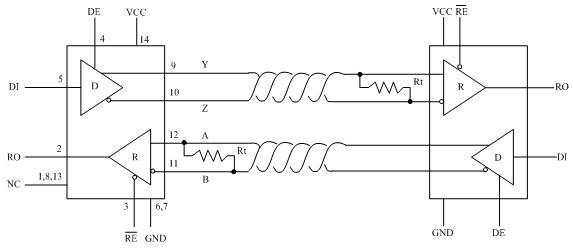 Applications
- RS-422 Communications
- Level Translators
- Transceivers for EMI-Sensitive Applications
- Industrial-Control Local Area Networks
Pin Configurations


Ordering Information


| | | | |
| --- | --- | --- | --- |
| Part Number | Temperature Range | Packaging Type | Shipping Qty |
| UM3491EEPE | -40°C to +85°C | DIP14 | 25pcs Tube |