Key Specifications
| | | | | | | | | | | | | | | | |
| --- | --- | --- | --- | --- | --- | --- | --- | --- | --- | --- | --- | --- | --- | --- | --- |
| Part Number | Description | Status | Drivers Per Package | Receivers Per Package | Logic Voltage (Min)(V) | ICC (Max)(mA) | Shutdown Control | Data Rate(kbps) | Main Supply Voltage (Nom)(V) | ESD HBM (kV) | ESD Contact (kV) | ESD Air (kV) | Operating Temperature Range(℃) | Pin/Package | EV Kit Available? |
View All>>
Product Description
The UM2002U8 is a bidirectional voltage level translator operational from 1.0V to 3.6V (Vref(A)) and 1.8V to 5.5V (Vref(B)), which allows bidirectional voltage translations between 1.0V and 5V without the need for a direction pin in open-drain or push-pull applications. Bit widths ranging from 1-bit or 2-bit are offered for level translation application with transmission speeds < 33 MHz for an open-drain system with a 50 pF capacitance and a pull-up of 197Ω.
The translators provide excellent ESD protection to lower voltage devices, and at the same time protect less ESD-resistant devices.
Features
- Provides Bidirectional Voltage Translation with No Direction Pin
- Less than 1.5ns Maximum Propagation Delay
- Allows Voltage Level Translation between:
1). 1.0V Vref(A) and 1.8V, 2.5V, 3.3V or 5V Vref(B)
2). 1.2V Vref(A) and 1.8V, 2.5V, 3.3V or 5V Vref(B)
3). 1.8V Vref(A) and 3.3V or 5V Vref(B)
4). 2.0V Vref(A) and 5V Vref(B)
5). 3.3V V
ref(A)
and 5V V
ref(B)
- Low 3.5Ω ON-State Connection between Input and Output Ports Provides Less Signal Distortion.
- 5V Tolerant I/O Ports to Support Mixed-Mode Signal Operation
- High-Impedance An and Bn Pins for EN = LOW
- Lock-up Free Operation
- Flow through Pinout for Ease of Printed-Circuit Board Trace Routing
- ESD Protection Exceeds:
4kV HBM Per JESD22-A114
200V MM Per JESD22-A115
1000V CDM Per JESD22-C101
- Package Offered: TSSOP8
Typical Application Circuit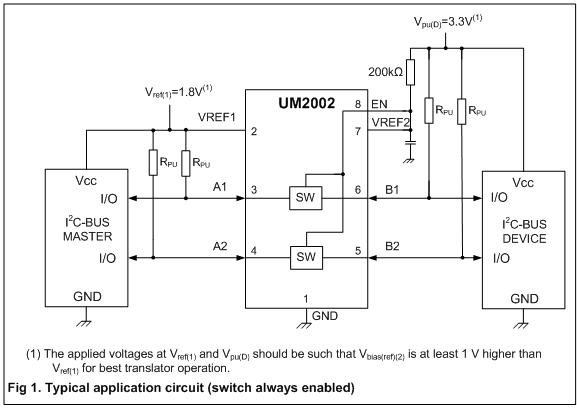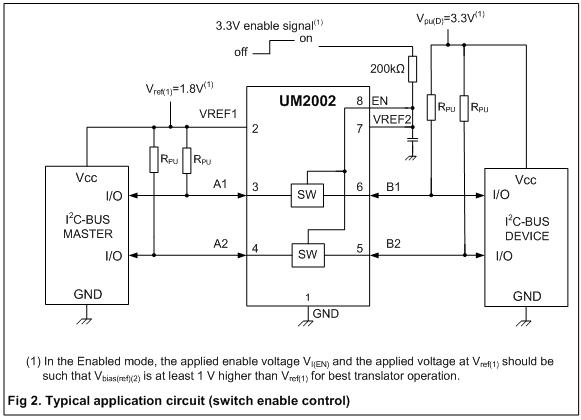 Applications
- SPI, MICROWIRE and I2C Level Translation
- Low-Voltage ASIC Level Translation
- Smart Card Readers
- Cell-Phone Cradles
- Portable POS Systems
- Portable Communication Devices
- Low-Cost Serial Interfaces
- Cell-Phones
- GPS
- Telecommunications Equipment
- Consumer Electronics
- Household Appliances
Pin Configurations



Ordering Information


Part Number

Packaging Type

Marking Code

Shipping Qty

UM2002U8

TSSOP8

2002U8

3000pcs/13Inch

Tape & Reel